Bleacher Bar Holiday Baseball Painting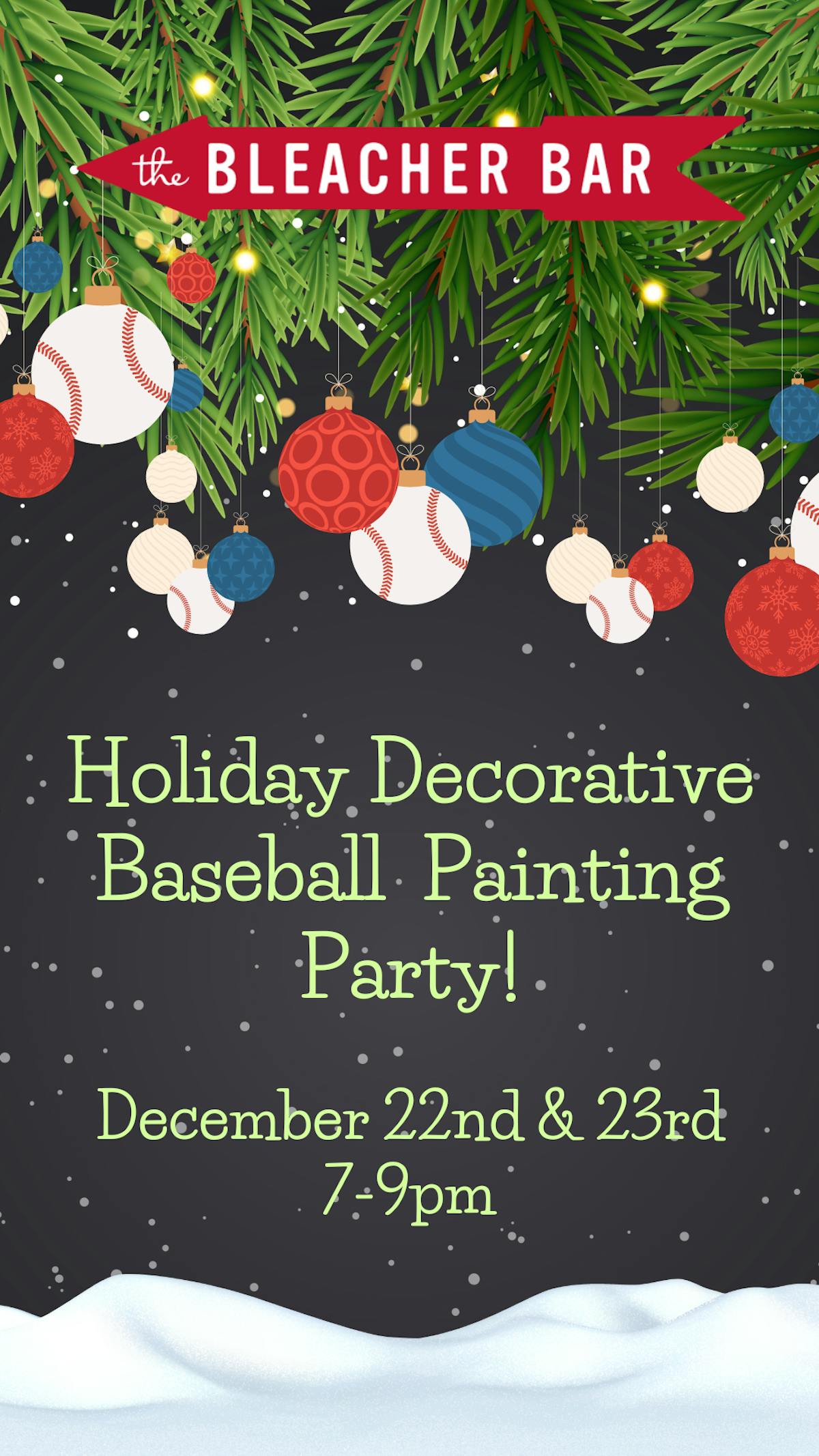 Celebrate the holiday season with a special night creating your own uniquely crafted baseball decorations! Hosted at Boston's infamous Bleacher Bar, this is an event you won't want to miss! Please continue reading to learn more about what you'll experience.
Holiday Painting in Boston
'Tis the season for some fun holiday activities at Bleacher Bar! Come on December 22nd & 23rd from 7-9 pm for this event. We're getting ready for the holidays with baseball decorating #UnderTheBleachers! Your ticket includes a Baseball Decorating Kit and complimentary snacks and apps. This is a fantastic event for baseball lovers to get into the season's festivities!
Snacks & Apps at Bleacher Bar
Our snacks and appetizers at Bleacher Bar are the best! To get us started, we have a trio of beef sliders is topped with lettuce, tomato, caramelized onions, garlic aioli, and cheddar cheese. In addition to the traditional beef, we serve a trio of buffalo chicken sliders with lettuce and blue cheese. The cheesy bacon fries are topped with Maplewood smoked bacon, melted cheese, sour cream, and scallions. Served with honey mustard, the chicken tenders are fried and breaded. You can also opt to have chicken wings. There are four varieties to choose from plain, buffalo, BBQ, or our house-made Watermelon Thai Chili. Mike's Fried Pickles are breaded fried pickles served with chipotle aioli. The Beer Battered Onion Rings are coated, fried, and filled with chipotle aioli. Try the Mini Chz-Bites Cheddar cheese curds made with breaded and fried milk. The Potato Bombs consist of bacon, scallion, cheddar cheese, sour cream, and twice-baked mashed potato battered and fried. These are also served with sour cream on the side. The Loaded Fries contain BBQ-flavored pulled pork, cheese, and onion strings and are topped with a fried egg. Finally, the Warm Soft Pretzel is a Belgian-style pretzel served with brown mustard.
Contact Us at Bleacher Bar for More Information
This is the perfect event for you if you're a baseball lover ready to get in the holiday spirit. Please get your tickets for our Holiday Baseball Painting through Eventbrite here! Contact one of our team members today for additional information regarding this event or to discover more about what you might expect to see on our menu for snacks and appetizers. You can get started by calling (617) 262-2424 or filling out a contact form on our website. We look forward to hearing from you!